Invoices
Wodonga, Victoria – 25 April to 29 April 2018
This event is held every 2 years, and the Sprite Clubs in Qld, NSW and Vic all take turns hosting it. This year we were celebrating the 60thBirthday of the Austin Healey Sprite as well. In total there were 27 from NSW, 16 from Qld, 17 from SA and 60 from VIC.
This year, 11 Queenslanders left on Sunday 22ndApril to head to Wodonga. Mike Wade organised a convoy of Brisbanites, meeting up with the rest along the way.
Attending were Mike & Yvonne Wade, Keith & Karen Gordon, Cas Michalek & Jenny Clark, Nev Mansfield, Martin & Jill Younger, Graham & Pauline Hepburn, Bob & Patty Ingram, Bob & Jackie Gray, Brian & Kay Bond and Alex Robertson.
Cas & Jenny, Nev and Keith & I met at Aratula, and drove through to Wallangarra for lunch. Our first night stop was Tenterfield. We arrived first, then, not long after Mike & Yvonne, Martin & Jill & Brian & Kay drove in. We stayed at the Tenterfield Golf Club. What lovely accommodation they have. Each room had a balcony that overlooked the Golf Links, and the rooms were a good size and very welcoming. We had dinner in the Restaurant at the Golf Club. Very nice food and atmosphere.
Next morning we set off for our next stop – Gunnedah. The roads were pretty good most of the time, with lots of interesting things to see along the way. We arrived at Gunnedah mid afternoon, and waiting for us were Bob & Jackie, Graham & Pauline and Bob & Patty.
Martin & Jill were concerned with a knocking noise coming from their car, so, after a lot of "experts" looking under the bonnet and giving their advice, it was decided to leave the car at Gunnedah (where the Motel owner promised to look after it) get a hire car, and carry on. Their son met them on Sunday night at the motel at Gunnedah to trailer them and the car home.
We learned that Graham had had a fight with a palm tree before he left home (Cairns), and hurt his hand. They got to Charters Towers and realised that his hand was going funny colours of blue and was very painful. They attended the Charters Towers hospital and after xrays were taken, they found his hand was broken, and needed surgery. Determined, they left the Sprite & trailer at Charters Towers for a friend to pick up and kept coming. They had a chemist friend in Tamworth who helped them get in contact with a surgeon in Wagga Wagga.
So Tuesday we all set off towards Bathurst, with Graham and Pauline heading to Wagga Wagga to see the surgeon. We had lunch at Sofala, what a quaint little town. Very small, but the best Hamburgers you could hope for. We stayed at Bathurst Tuesday night, having a meal at the Panthers Football Club.
Wednesday saw us arrive in Wodonga. The Quest Apartments were lovely, a 4 storey apartment building with a bridge through to the Hotel where we would be having our nightly dinners. Lots of parking for the cars, and trailers etc. We were welcomed by Greg & Terri Corbin and had a lovely social night around the pool area socializing with the NSW, SA and Vic Clubs. Keith participated in the Racing and I participated in the Social bus runs.
Thursday the Social set caught the bus and we headed for the Cofield Winery at Wahgunyah where we were given a tour of the winery. We were lucky enough to be able to watch them crush the last batch of grapes of the season. We were then shown where they bottle the wines, and another room where there were lots of different sized barrels. Taste testing was a big hit and quite a few left with bottles of delicious wine. Morning tea was provided at the winery.
Then we headed off to Byramine Homestead for a Coachmans lunch and tour of the homestead that explorer Hamilton Hume built for his sister-in-law (and 9 children) in 1842. The homestead was classified by the National Trust because of its unique design, featuring octagonal rooms.
Racing for the day was held at the Wodonga TAFE Motorsports Park. 
From where we were at the Motel, it was a 15min drive to the Track. Driving through the front gate, first thought was "Wow, it was massive". On the left was the TAFE Driver Training School where they have 30 students per year who do a 2 year course with the TAFE. The students are trained in all aspects of building race cars, right from making the panels, working out load on suspension, engine building and tuning. Basically you name it, they do it. Some of the students are then selected by Professional Race Teams and are used over a full race meeting. The Wodonga Driver Training Track is a bitumen track and is 1.6 km long with a 300m straight. The track was originally build to the specifications to accommodate B Doubles, so learners could get Driver Training in cars, motor bikes, Semi trailers and B Doubles.
Thursday we participated in the Sprints and Regularity. For a Driver Training track, I found it quite a challenge, as it was mostly 2ndgear with plenty of corners both left and right. Then out on to the main straight with a minimal time in 3rdgear, then back to 2ndgear for the next lap.
Dinner at the Quest Hotel was in a room especially set up for us for the time we were there. Food was delicious. Greg Corbin had 2 large screens up, and televised a live interview with racing driver Perry McCarthy, he appeared in 22 Top Gear episodes as the original black suited Stig. McCarthy was cast as the Stig following a chance meeting with Jeremy Clarkson at the 2002 launch party for McCarthy's autobiography. 
After that we were treated to an interview with John Sprinzel live from Hawaii (it was 1am in Hawaii, but John was awake and ready to chat)
We heard through Bob & Patty that Graham was having the operation on his hand on Friday and coming to Wodonga. We were all surprised when they turned up Friday afternoon – operation done and looking in a lot less pain.
Friday the Social set headed for Yack Station at Yackandandah. This was a building for the specific purpose of providing studio spaces for artists to engage in their creative talents. Visitors can purchase directly from the artists.
We then went to Amulet Winery for lunch. After lunch we were taken to the township of Beechworth where we could walk the street, looking in the lovely little shops. Afternoon tea was at the Hillsborough Quality Nuts at Stanley, Coffee, Scones and Jam and cream.
Fridays competition consisted of a motorkhana. This was set up in the pit area adjacent to the track with a number of configurations to challenge our skills. All in all a great track to drive and it was a great weekend of competition.
Friday night after dinner the Rocker Cover racing competition began. South Australian (Chris Brine) was the eventual winner, with Martin Younger from Qld a very close second.
Saturday saw all the cars meeting in the town square for a Concours and Show n Shine. After lunch the adventurous went on an Observation Run – which was deemed quite hard, with few completing the course. The rest of us headed to our rooms for a rest or others went for a walk around town.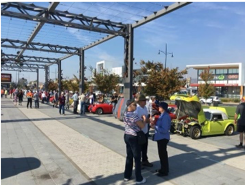 Saturday night was theme night – "with the Theme 1958 – make of it what you will" There were so many wonderful costumes, it was incredible the inventiveness of some people. Bob Lomax gave us an entertaining sing along with well known tunes with the words changed to include the Sprites. Over the next couple of months I will put a couple in the newsletter for you to read and try and sing to.
A Couple of titles are – "Oh Sprite My Car" sung to the tune of Danny Boy, and "I've been working on my Bugeye" sung to the tune of Working on the Railroad, and one I really liked was "You picked a fine time to leave me loose wheel" sung to You picked a fine time to leave me Lucille.
Sunday morning we had a Buffet breakfast together and said our goodbyes and headed home. Cas & Jenny, Nev, and Keith & I decided to take the coast road home. We headed for Taree to stay the first night, and got home on Tuesday – tired, but we all agreed we had a great time.
Everyone got home safely and we all agreed, it was a terrific week away with our fellow Club members.
Everyone down south are excited to being coming to Qld for the next National Challenge. So make sure you set aside the time to come along and enjoy our Challenge in 2020.